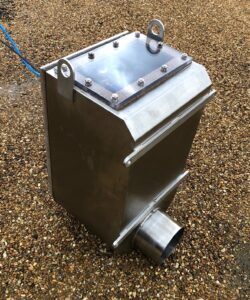 11 Feb

Box Valve Automated PCD Installed at the UK's First EV Battery Recycling Plant

Normally a Flap Valve or automated pollution control devices [PCD] such as our Flapstopper cannot be opened under a head of of more than a few meters of water due to atmospheric pressure holding it firmly closed, like a giant plug in a bathtub. 

The Box valve version of the Falpstopper solves this longstanding battle against the forces of gravity by altering the valves orientation to an off-seat position. The box valve above is one of the many examples that was been shipped and installed in 2020, manufactured from stainless steel and with a tough polycarbonate viewing / service window. 

This particular Flapstopper viewed prior to installation, was destined to protect the outfall from the UK's fist recycling plant for EV batteries from the consequence of a fire and the subsequent generation of toxic firewater and the fitting of this Flapstopper was mandated as part of the site obtaining its waste handling licence.

For further details please use the on-line contact form.